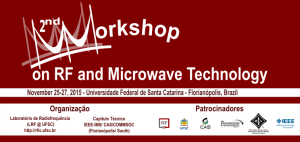 The "Second Workshop on RF and Microwave Technology" is an event organized by the Research Group on Radiofrequency at UFSC, the technical chapter IEEE IMS/CAS/COMMSOC and the IEEE Student Branch at UFSC.
The 2nd Workshop on RF and Microwave Technology intends to sharing expertise on RF and Microwave topics between students, researchers, and industry members related to electrical, electronics and complementary areas.
In addition, the event  allows a broad number of academics and professionals to be in contact with innovative ideas and different well-known speakers. The workshop also aims to promoting and creating research opportunities and partnerships between academia and local enterprises. Florianópolis and region have the potential to become one of Brazil's main technology centers, home of a raising number of entrepreneurs, start-ups and business incubators.
Download the call for participation here.
NEWS: Follow online the conferences on the streaming link: http://youtu.be/9j8vxfU0JBc
—————————————————————————————————————————————————————–
GRF mini-courses   
Course # 1: RFIC Desing Flow on CADENCE Virtuoso 
Course # 2: RF and Microwave Circuit Design on ADS Keysight 
                                  To enroll on the GRF mini-courses click here
Each course duration is 4hr. You must attend be able to attend the complete course to make your inscription. See details below:
—————————————————————————————————————————————————–
Lecturers and lectures
————————————————————————————————————————————–
Event Schedule:
When
26/11-Thursday(Auditorium FEESC)
10:30
Maicon D. Pereira
11:00
Germán Andréa Álvarez Botero
14:00
Hassan Aboushady
16:00
José Luís A. Guntzel and 

Vinícius dos Santos Livramento
| | |
| --- | --- |
| When | 27/11-Friday(Auditorium Teixerão – EEL/CTC) |
| 14:00 | Fabian Leonardo Cabrera Riaño |
| 14:30 | Maysam Gnovanloo |
| 16:30 | Victor Rocha Pusch |